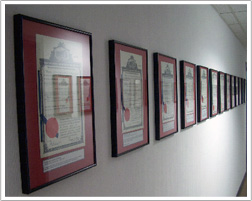 WeldingTechnology Corp. Technical Center is located in Farmington Hills, Michigan USA and houses all core departments that support our customers throughout the world.
Primary manufacturing-welding controls & electrical panels are produced on multiple assembly lines and are complemented by full load test stations for validation and quality acceptance. Our production environment can handle multiple high volume programs at the same time with various specialized designs.
Our manufacturing facility is certified to meet ISO 9001:2000 standards (Click here for a copy of ISO Registration Certificate) and is compliant with AS9100 Aerospace Quality System Standard; AWS D17.2 specification for resistance welding for aerospace applications; MIL-W-6858 military specification for resistance, spot, and seam welding applications.
Engineering - Welding Technology Corp. engineering boasts a team of hardware & software designers skilled and knowledgeable in the total design of resistance welding control technology, starting from circuit board design through to full integration to customer specifications.
Research - With over 100 patents in resistance welding, our research team is continually researching ahead of production materials with innovative technologies to handle future manufacturing initiatives. This research utilizes robotic test cells for testing adaptive welding algorithms to deal with disturbances on existing and newly introduced materials.
Support - Welding Technology Corp has a Technical Support Team (TST) that is staffed with experienced technicians to support you on-site or by telephone to solve problems in resistance welding applications. TST provides training, weld control repair, on site start up assistance, and application support.