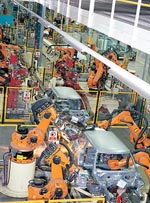 Welding Technology Corp has developed a myriad of tools to make our customer's difficult welding tasks as simple as possible. These tools are created to render processes easier to achieve as well as to instill a quality assurance in the products being produced.


Resistance Welding Processes

NormalizedC-Factor

RAFT

Setting up RAFT for Robot Welding

Setting up RAFT for DC Portable Weld Gun Station

New:

What is Adaptive Welding and How to Control!
Workshop document presented at AWS Detroit SMWC - October 15, 2018

Sizing Circuit Breakers for Resistance Welding

Sizing Isolation Contactors for Resistance Welding

Inverter Cooling Requirements

Ohma ® (Air/Oil) Cylinder Operation